Both the girls and boys basketball teams defeated Bryan County Middle School Wednesday night. Come support the Wildcat basketball teams as they take on Langston Chapel in their first region game on Tuesday, December 1st. #WeAreRHMS

Members of the Field Studies Program did some trap surveys in the RHMS campus wetlands for the first time since last February. One trap contained a 63 cm salamander species called an amphiumid which looks somewhat like an eel. #WeAreRHMS

Shout out to our amazing 8th grade Social Studies teachers for organizing and presenting our STEM project. All classes met virtually to discuss the goals and objectives of the Truman Trials project. History, argumentative writing, math, science! It's all in there! Even when we are face-to-face, virtual learning has its place. Way to go, team! #WeAreRHMS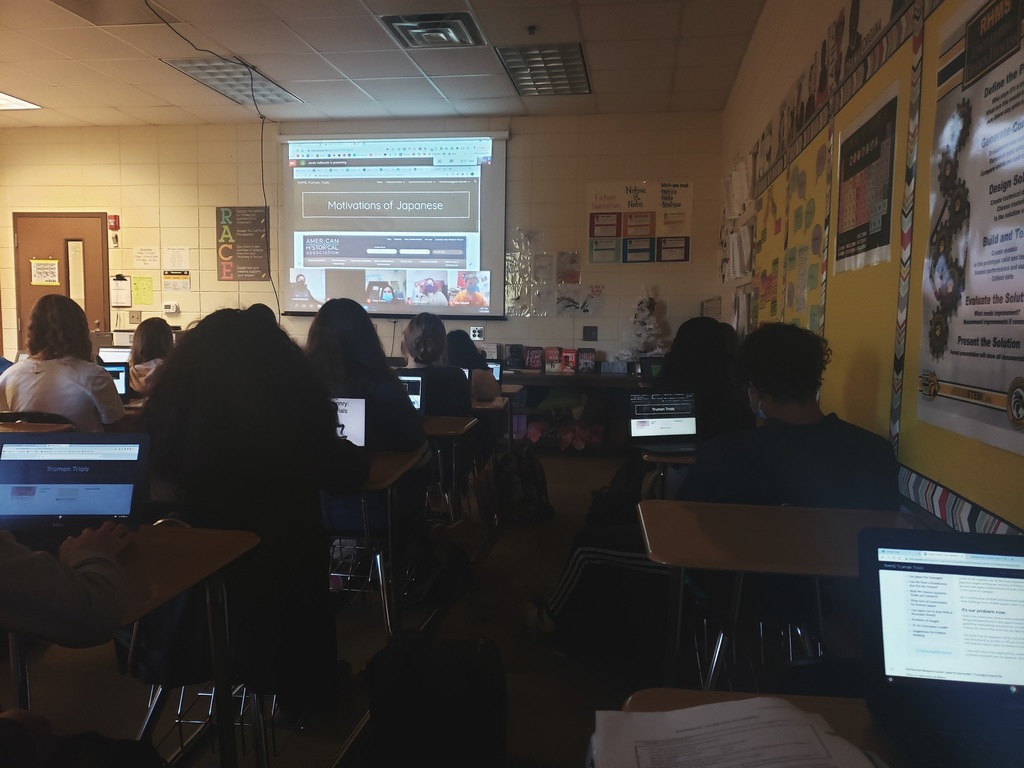 Have a safe and fun Thanksgiving break! #WeAreRHMS

There will be a 4-H meeting this Thursday (11/19) from 3:30-5:00 in room 415. Please make plans to attend. See Mrs. Winter for any questions.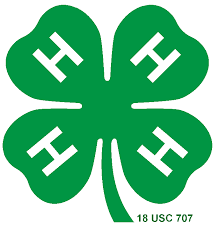 The girls and boys basketball teams played in the pre-season tournament last night. The girls defeated William James with a 14-7 victory. The boys fell short in a close game again William James losing 24-21. #WeAreRHMS

Congratulations to Selah Saffian and Ethan Fitts, Student Athletes of the Week! #WeAreRHMS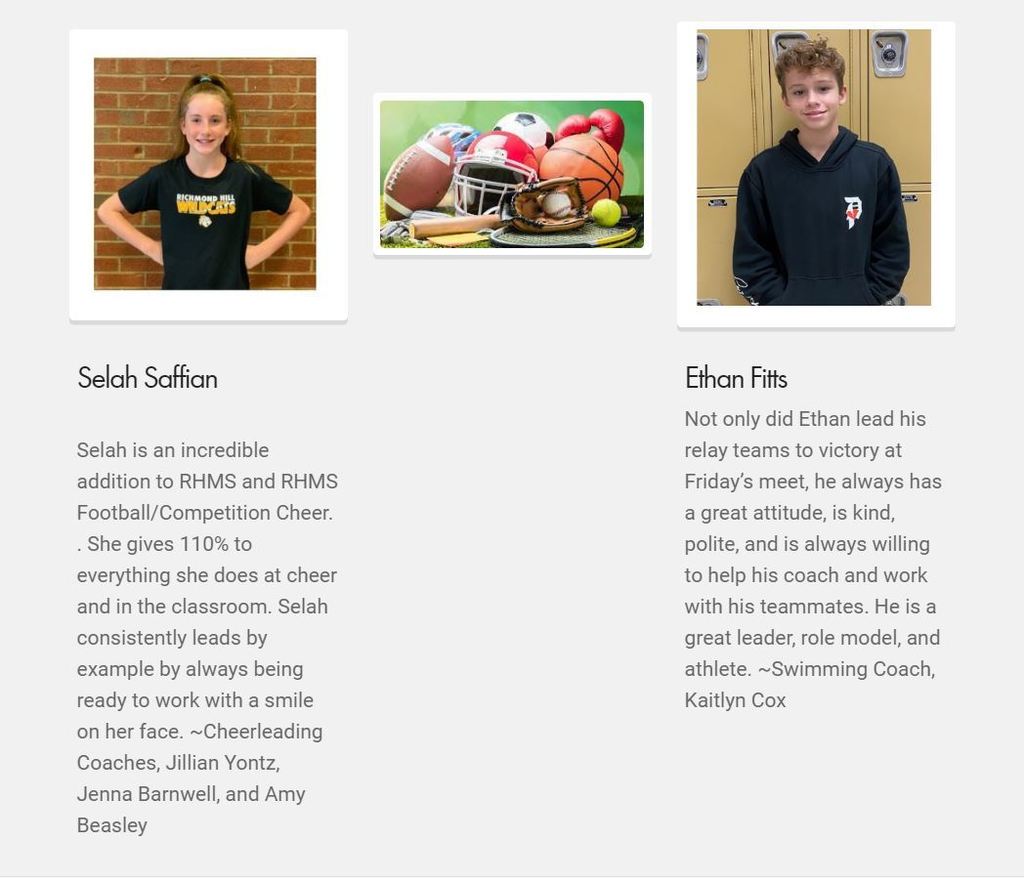 Mrs. Johnson's 8th grade physical science students investigated potential and kinetic energy in a ball drop lab activity. They used tennis balls, ping pong balls, and golf balls and measured the height of the bounce as it relates to potential and kinetic energy.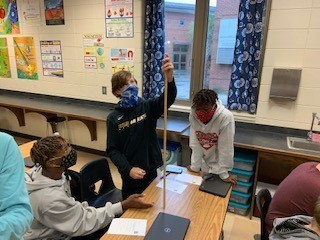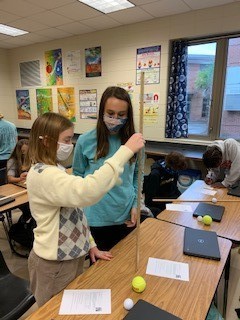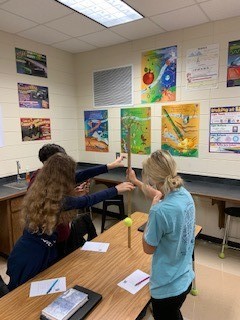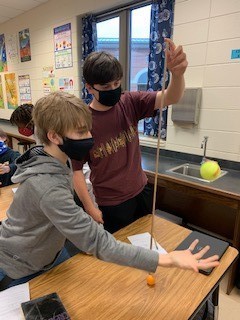 RHMS is proud of our parents and staff members who are Veterans! Thank you for your service and sacrifice! #WeAreRHMS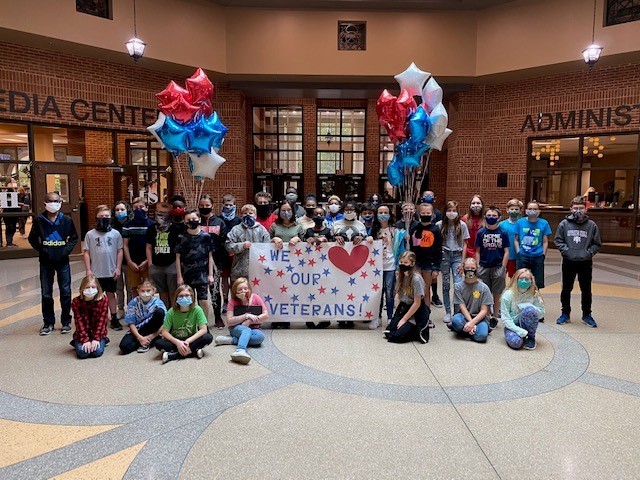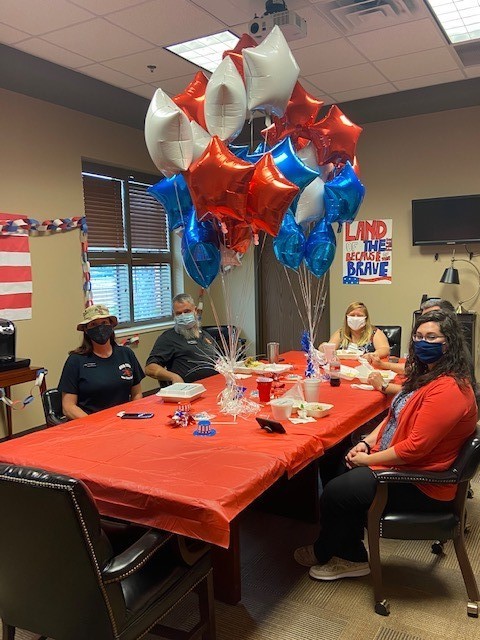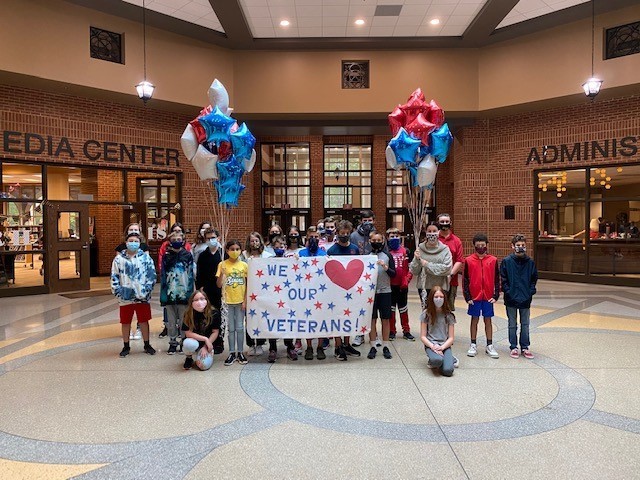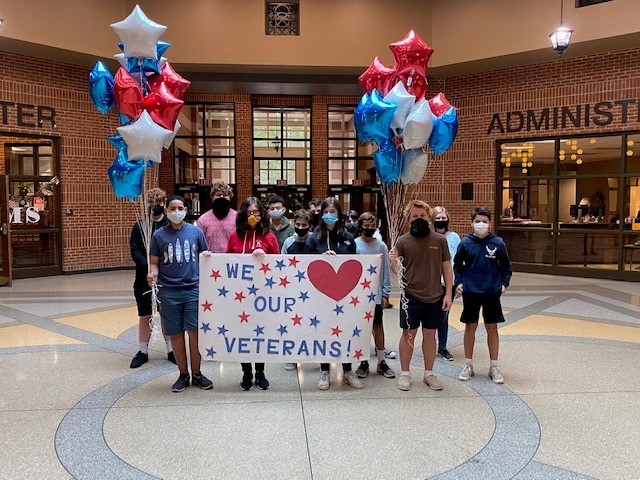 RHMS is collecting Legos for Memorial Hospital. See Flyer for Details! #WeAreRHMS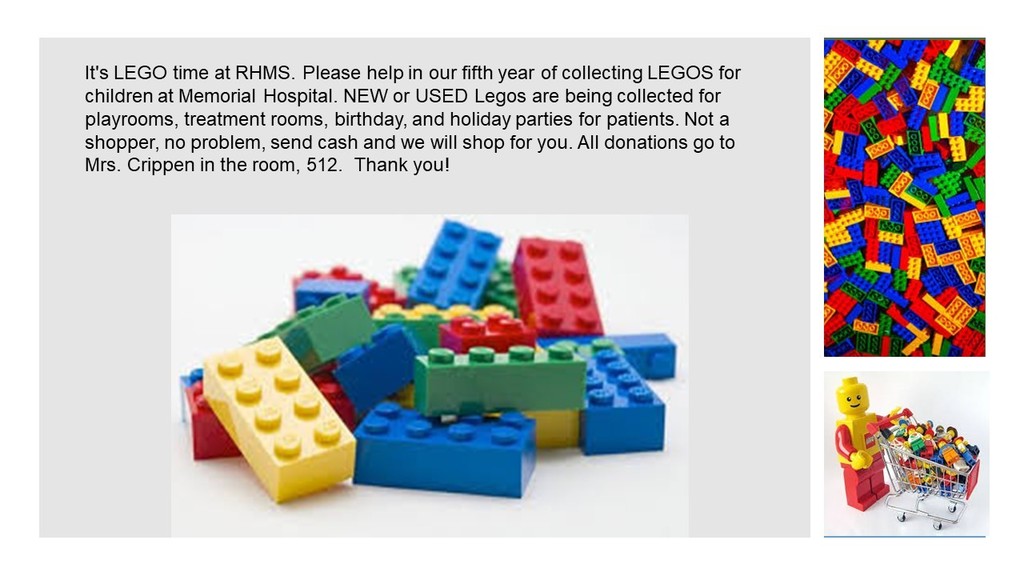 RHMS Wildcats, Regrettably, we will be canceling our annual Veteran's Day Lunch tomorrow due to 70% chance of rain and thunderstorms paired with the outdoor requirements to adhere to safety regulations. We will have a special patriotic photo opportunity for your child tomorrow, and will be sending a sweet treat home with him or her for their Veteran (if signed up for the luncheon). RHMS is very grateful for your service and we look forward to hosting our luncheon again next year! Thank you for your support and understanding, RHMS Elizabeth Bennett Ed.D Principal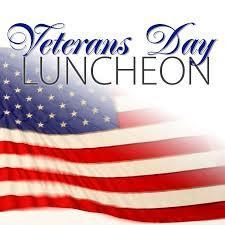 Marco's Pizza has partnered with RHMS to help support student activities and overall school wellbeing. Show your support by ordering pizza from Marco's on Tuesday, November 10th from 5:00 p.m. until 7:00 p.m. Marco's will donate 15% of sales to RHMS, and award a class party to the teacher with the most participation. (Mention your HR teacher's name when ordering.) Thank you Marco's Pizza for all of your support! #WeAreRHMS #marcospizza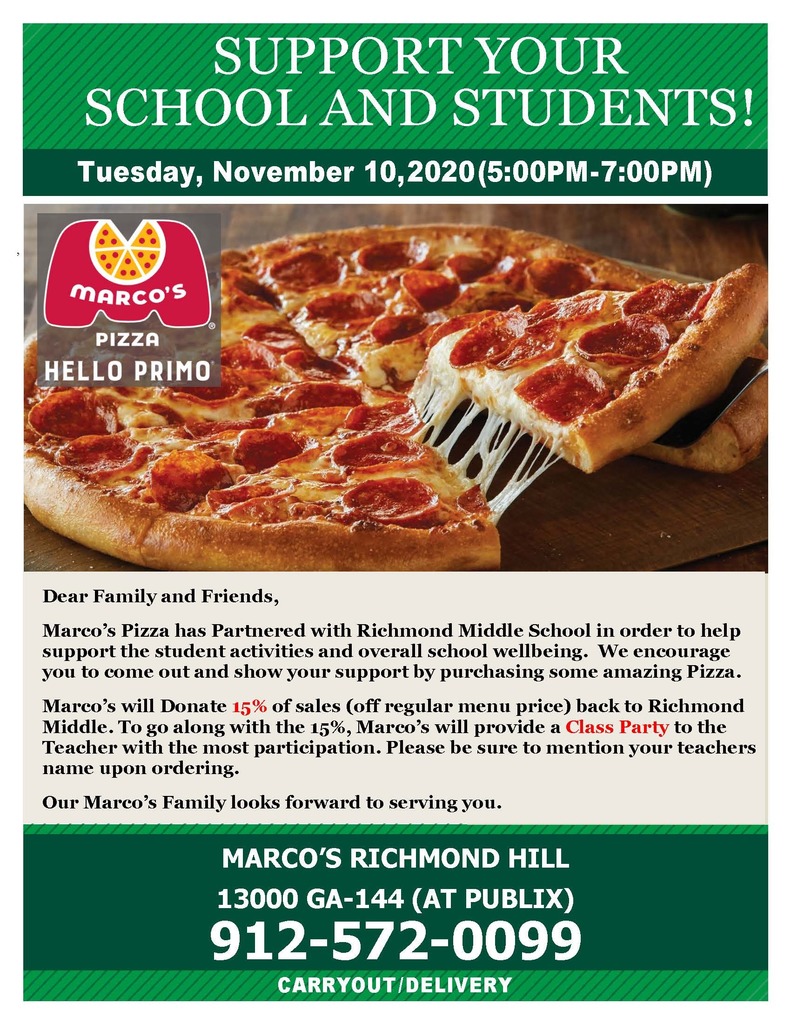 Archery Club hosted a Pumpkin Shoot and invited parents out to see their Archers. Archers were coaches and taught their parents how to shoot our bows. All had great fun shooting their pumpkins. Afterwards all pumpkins were donated to the compost pile in the schools garden. #RiseUp #RHMSArchery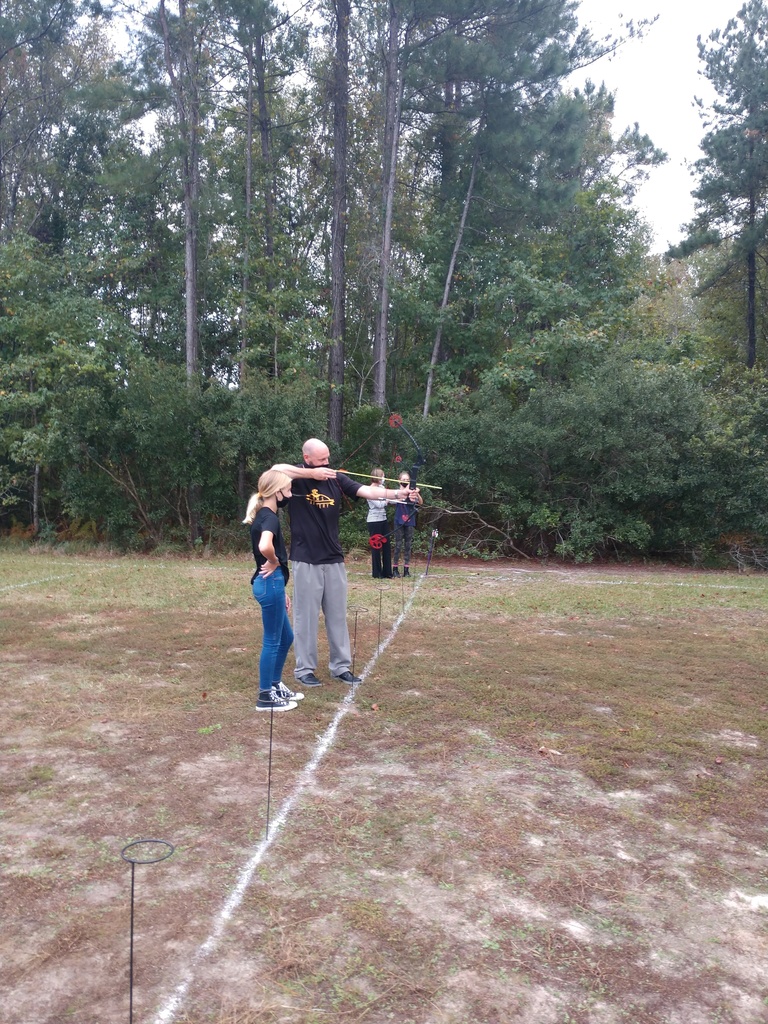 Congratulations to the swim team for making first place at their meet on Friday! #RHMSSwimTeam #WeAreRHMS

Our Athletes of the Week, Eliana King and Clara Newman, were presented with a gift certificate to feed their family some awesome Marco's Pizza! Marco's Pizza is a business sponsor for RHMS and we appreciate their generous support every week!! #WeAreRHMS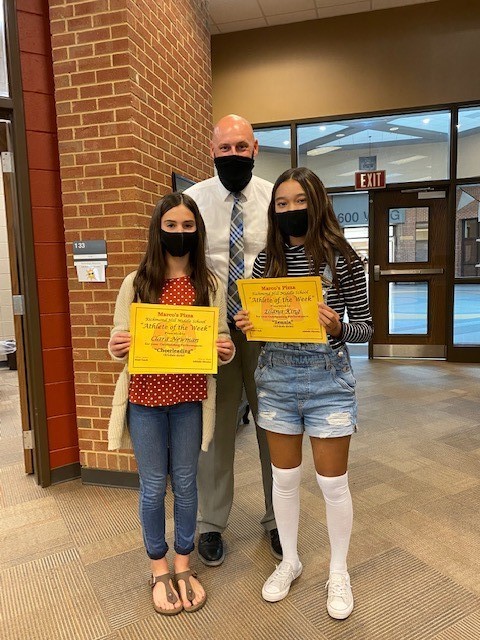 The Richmond Hill Middle School Wildcat Football Team completed their second undefeated season in a row and repeated as Coastal Empire Region Champions by defeating Effingham Middle School 36 to 6. Mathias Clarke got the offense going early with a 70 yard rushing touchdown. Caleb Easterling also had a long rushing touchdown and played many important roles for the offense all night. Brandon McDonald and Andrew Mathews each had rushing touchdowns to put the game away in the fourth quarter. The defense was led by Andrew Mathews who led the team in tackles for loss, and recovered a fumble in the endzone for a touchdown. Aiden Grant was also able to secure a fumble recovery, and Omarion Gregory had an interception for the Wildcat Defense. Congratulations to this group of 8th graders on an outstanding middle school career and an outstanding season! Go Wildcats! #WeAreRHMS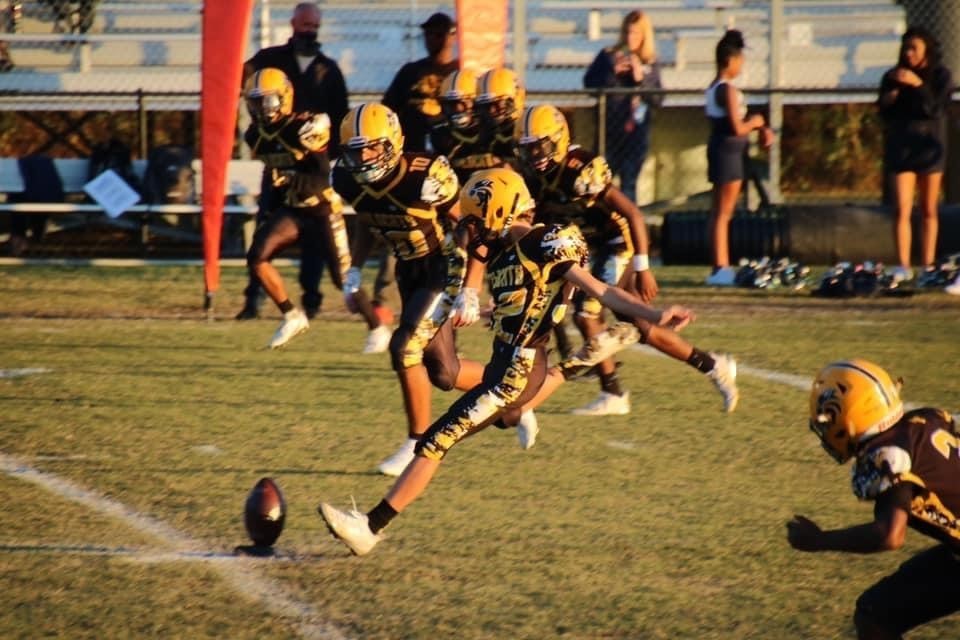 Dr. Ford's 6th grade science classes recently completed a lab on Plate Tectonics. #WeAreRHMS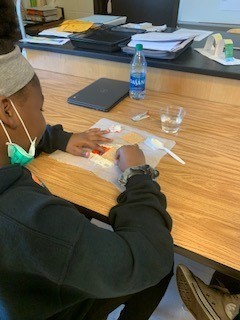 Congratulations to our Student Athletes of the Week, Eliana King and Clara Newman. #WeAreRHMS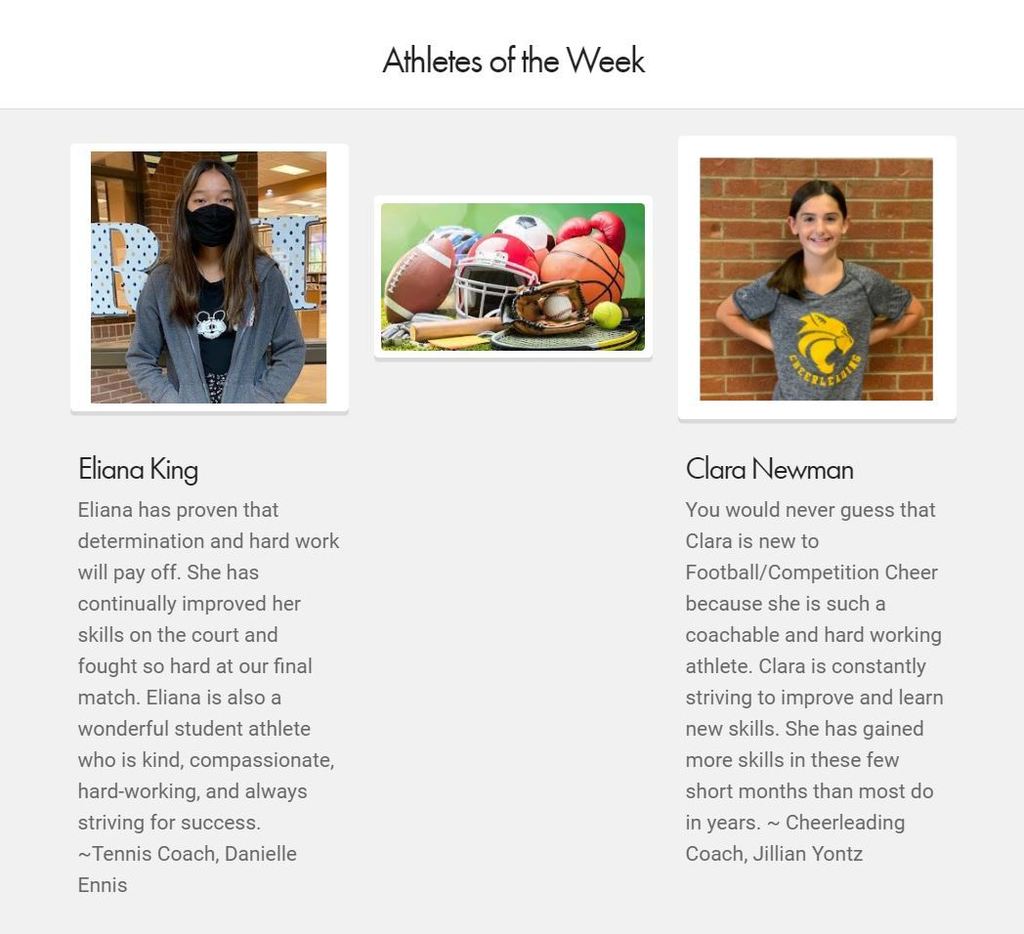 Mr. Mosier and Ms. Bishop's class are learning about gardening in Georgia. Students have researched what plants grow best in the Fall, have prepared their raised beds and planted lettuce, spinach, kale, brussels sprouts, turnips, broccoli, and onions. Hopefully, the weather will be easy on their crop and looking forward to a bountiful harvest. #WeAreRHMS